In this turorial we will setup a Sodaq One with The Things Network (TTN) and publish the data on the cayenne dashboard from mydevices.
Follow the steps on the Tracker Software page to do the next steps:
Install Arduino IDE
Install Sodaq board files
Download latest tracker version
Upload the software to your Sodaq One
Make an account and login.
https://console.thethingsnetwork.org/
Create application
Application ID, a name or number to identify your application.
Within this application you can add your device.
For example: sodaq-one-trackers



Register device


Disconnect any power source connected to the SODAQ ONE.
Connect it to your pc over usb.
Open a serial monitor within 30 seconds.
If you don't see any data within 2 seconds, press Enter.
Type the command: "EUI" and press Enter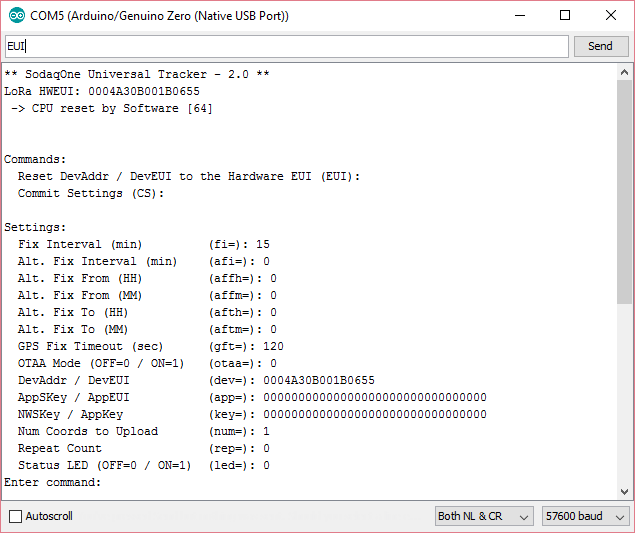 Copy the DevEUI to the website, and press Register.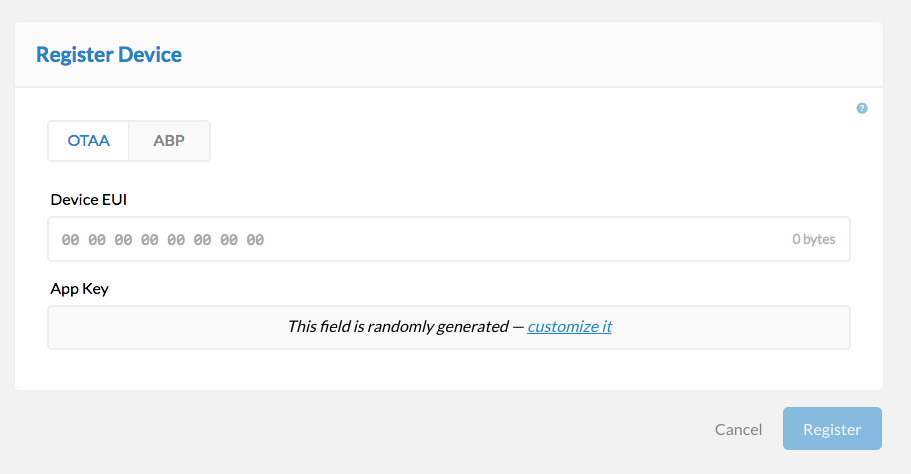 Copy the App EUI and App key to the SODAQ one.
And change enable OTAA (otaa=1).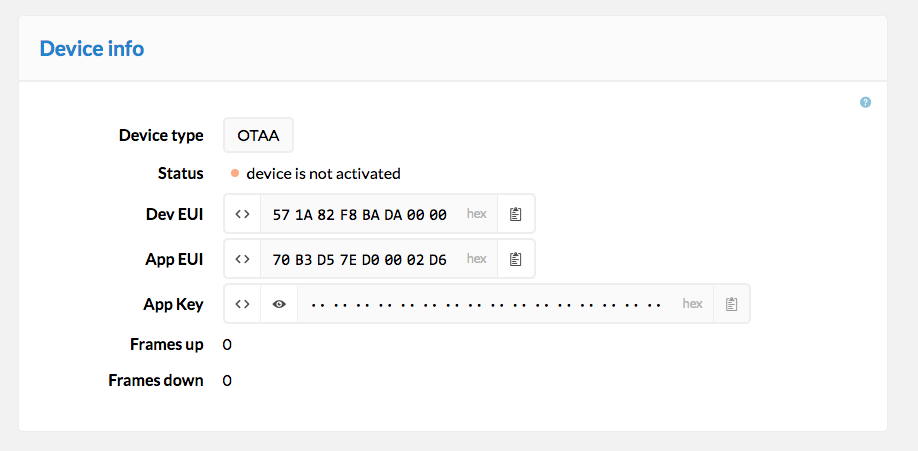 Your device is now sending data to the Things Network
To learn about The Things Network:
https://www.thethingsnetwork.org/docs/
The payload is hexadecimal and not readable for a human.
Cayenne from myDevices is free to use platform to view your data.
3 steps to send data from TTN to Cayenne.
Enable Cayenne on he Sodaq One.
Make a connection from TTN to Cayenne.
Add your device in Cayenne.
1. Enable Cayenne on Sodaq One
Reset the Sodaq One.
Enable Cayenne in te menu (cay=1)
2. Make a connection from TTN to Cayenne
Go to your application.
Go to the tab "Integrations".
Create a new Cayenne integration.
3. Add your device in Cayenne
Create an account on https://mydevices.com/
Add a new device.
Go to LoRa(Beta)
Scroll down to The Things Network.
Select Sodaq One from the list.
Fill in your "DevEUI" and press Add device.
You are now finished, when a message is send Cayenne knows how to decode the messages and will automaticly generate a graphical presentaion.
After this, the payload is presented graphically friendly and the names of the different input scan be changed. The picture below shows an example of input data.