Send temperature and humidity to All Things Talk
Prepare your Arduino envirement:
http://support.sodaq.com/sodaq-one/nb-iot_tutorials/
Create a account on maker.allthingstalk.com
More infomation about can be found here:
http://support.sodaq.com/sodaq-one/nb-iot-dashboard/
http://docs.allthingstalk.com/
Add two assets for Temperature and Humidity
Update the data decoding
{
  "sense": [
    {
      "asset": "my_temperature",
      "value": {
        "byte": 0,
        "bytelength": 2,
        "type": "integer",
        "calculation": "val / 100"
      }
    },
    {
      "asset": "my_humidity",
      "value": {
        "byte": 2,
        "bytelength": 2,
        "type": "integer",
        "calculation": "val / 100"
      }
    }
  ]
}

Turn on Data retention to save the data to be able to show graphs.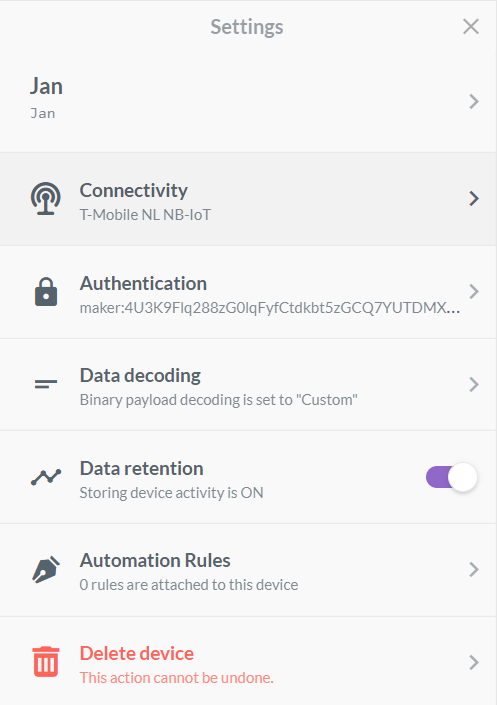 All Things Talk is now ready to receive the packets, decode the data and display it on the screen.
Upload the "Sensors_NB-IoT/HTS221_HumidityTemperature_nbiot_att" example to your board
The example can be found inside the latest library version.
Arduino IDE: File → Examples → Sodaq_nbIOT
Your two assets should update every 10 seconds.

In the tab "ACTIVITY" you can view your historical average data.